To change what a contributor can edit in your Squarespace site, you can edit their permissions in the Permissions panel. Only Administrators can edit contributor permissions.
For help choosing the right permissions, visit Squarespace permissions explained.
Step 1 - Go to the Permissions panel
In the Home Menu, click Settings, and then click Permissions.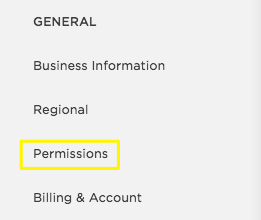 Step 2 - Edit permissions
Contributors with permissions
The Contributors With Permissions section holds all contributors with assigned permissions who accepted their invitations.
Click the contributor's name to open their permissions.
Check or uncheck the permissions (also known as user roles) based on the areas of your site this contributor can manage, and then click Save.
You can check multiple permissions. The available permissions are:
Administrator
Content Editor
Billing
Reporting
Comment Moderator
Trusted Commenter
Store Manager
For details on what each permission level can access, visit Squarespace permissions explained.
Note: Squarespace doesn't support per-page editing permissions at this time.
Contributors without permissions
The Contributors Without Permissions section is a placeholder for contributors without access that you haven't removed from your site. From here, you can grant permissions again or remove them entirely.
Remove a contributor
If a contributor doesn't need access to edit your site (for example, if they're no longer with your company) remove their contributor profile.