Basic Information Settings include general information like your site type and description. This information appears on some templates and Squarespace features. All fields are optional, but we recommend adding a site description to let visitors learn about you or your site. 
Tip: If your site is for a store or other business, use Business Information Settings to enter essentials like your like your business name, address, and hours of operation.
Go to Basic Information
In the Home Menu, click Settings, and then click Basic Information.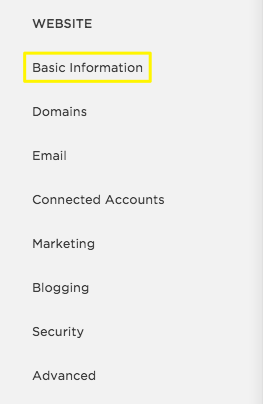 Site type
Pick a category that best fits your site: Business, Personal, or Non-Profit. We use this information to help us understand and organize our customers, and it doesn't display to visitors.
Site description
Enter a Site Description or bio. Some templates display this on your site. For more information on setting a Site Description, visit Editing your site description.
Promotion
We sometimes promote our customers' websites. For example, we may feature your website on our Templates page, or on our social media accounts like Instagram, Twitter, or Facebook. This promotion can result in improved traffic to your website. To allow us to potentially promote your website, leave Allow Squarespace Promotion checked. If you don't want your website promoted, uncheck the box.