Manage your time zone, location, and measurement standard in Regional Settings.
Selecting your language in this panel doesn't translate your site's content, interface, or editing tools at this time. These settings control areas like your content publication dates and Analytics data. They also help Squarespace with our internal tracking. To build a site in multiple languages, visit Creating a multilingual site in Squarespace.
Note: Regional Settings are only available on the Website and Commerce products.
Go to Regional Settings
In the Home Menu, click Settings, and then click Regional.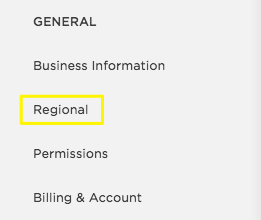 Review your current settings. Squarespace has set your default location based on the IP address from where you created your site.
Select your time zone
Click anywhere on the map to select your Time Zone.
You can also refine your Time Zone by selecting your nearest city.
Select your language
Select your language from the Language drop-down menu.
Note: The Language setting is only for our internal records at this time. This doesn't translate any part of your site.
Select your country and state
Select your country from the Geography drop-down menu.
If you select United States, select your state from the drop-down menu that appears below.
Select your measurement standard
If you sell physical products on your site, use this setting to establish the measurement standards for product weights and dimensions. 
Save
Click Save to publish your changes.